Play Empire: Total War the way it should have been. The historically accurate visuals and a soundtrack of contemporary composers transport you into the time of the revolutionary wars. Trade with the historical factions, go to war with historical generals, command armies in historically accurate uniforms. But don't forget: A reworked Campaign and Battle AI make the Great Campaign more challenging. It will not be easy for you to impose onto the world your Imperial Splendour.
Churhannover
The elector George III has not visited the homeland of his father prince Frederic and grandfather George II. In fact Hannover is ruled by London and its privy council at home. Because of that split the ruling noble families dominate the politics in Hannover.
Hannovers economy is based on agriculture and the tariffs of the trade routes passing through the Hanoverian lands on its excellent streets and rivers such as the Elbe.

Furthermore the newly founded university by George II has become one of the intellectual centres in Germany. It attracted intellectual as Lichtenberg, Pütter or Kästner.

But do not underestimate the strength of the Hanoverian army. At the end of the Seven Years War Hannover fielded an army of around 50.000 soldiers.
Today, the cavalry rides well bred horses and has a high level of training as well as the artillery and infantry. The training is even provided by the officers and not the NCO's as in other factions.
How well the Hanoverian can fight they have shown recently in Gibraltar under Elliott and in India. In addition brilliant young officers such as Scharnhorst or Charles von Alten are the future of the Hanoverian army if you are willing to replace the old officer corps.

So you have to decide: shall you take the risk and leading Hannover to independence from Great Britain or will you stay loyal and may be dragged into the next war for Britain's glory while staying under Britannia's protection?

Historical characters:
Government: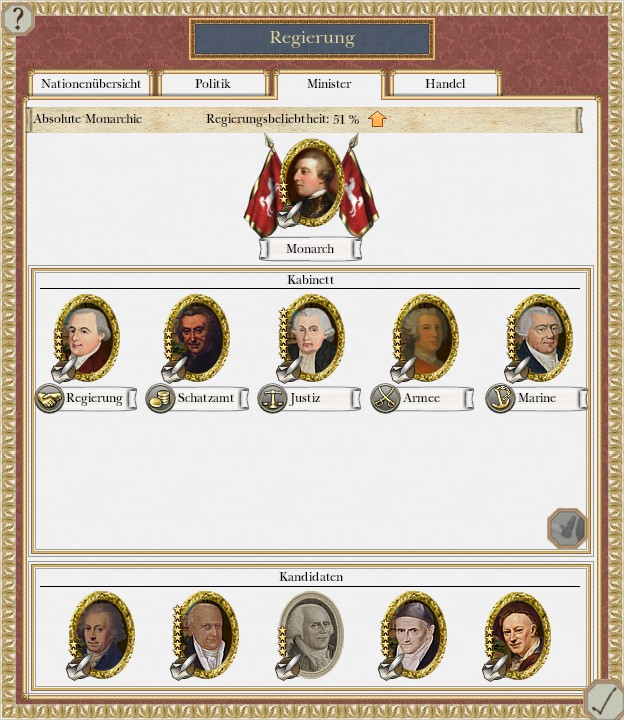 Generals:


Admirals:


Christian Gottlieb Daniel Müller (starting admiral)
Joachim Deetjen (no recruitment limitations)
Scholars: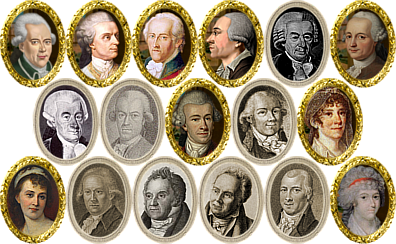 Envoys:


Denmark
The signing of the preliminary treaties in Paris marked the end of the golden age of trade, and the Kingdom is faced with new problems, both internal and external. Christian VII's insanity made him incapable of bringing any decisions and with the state in crisis, the future of the Kingdom is unclear. The old ministries since the fall of Struensee have proved inefficient and with the crown prince's coming of age a new coup d'état is nearing. Denmark should not get entangled in Russia's diplomatic affairs that easily and should, when the time is right, discuss other options, but for now Sweden is a major threat and Russian assistance a necessity.

Gustav III has set his eyes on Norway and is trying to bring Denmark in a state of complete isolation so good relations and alliances are a key to safety. Gustav is already mobilizing all his available forces so expect an attack very soon.

Concluding trade treaties with nations like the Kingdom of Sicily, Portugal and Spain will provide new resources and help boost your economy. Although currently at peace, the Barbary States pose a constant threat to Denmark's trade routes so building a strong navy to protect those routes is beneficial.

It is important you pay close attention to the events in India, as old combatants in their battling will be too busy to watch the activities of the Danish East India Company and their mutual bombarding may serve to you as an opportunity to expand the company's influence. The European equilibrium is threatened and how Denmark will adapt to the new changes is up to you.
Historical Characters:
Government: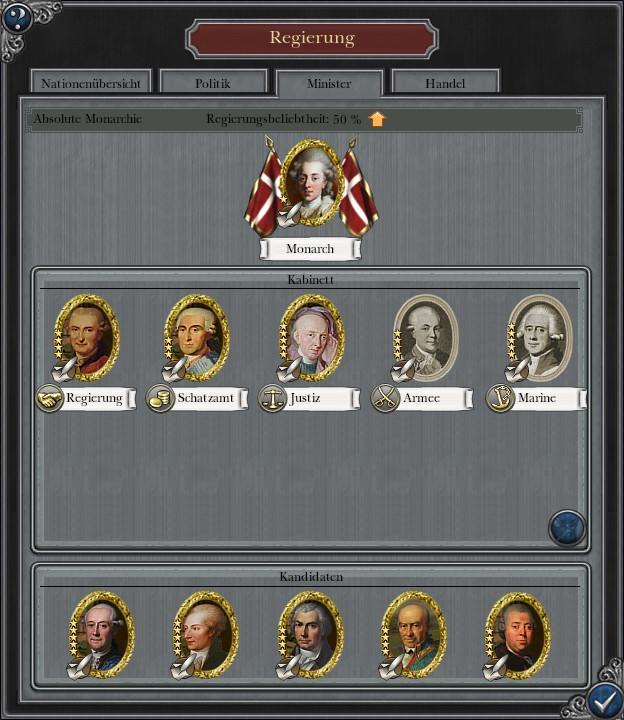 Generals: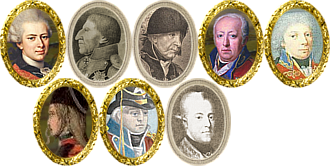 Admirals: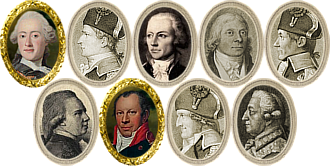 Scholars: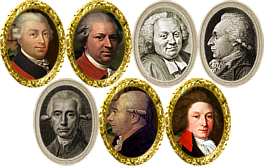 Envoys:


Missionaries: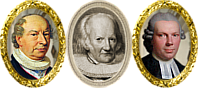 Unit roster:
Cavalry:

General og Staben
Livgarden til Hest
Rytter=Livregimentet
Det lette Dragon=Livregiment
Rytter=Regiment
Dragon=Regiment
Regiment lette Dragoner
Husar Regimentet
Bosniaken
Infantry:

Livgarden til Fods
Det Danske Liv=Regiment
Det Norske Liv=Regiment
Danske Infanterie Regiment
Norske Infanterie Regiment
Dansk Grenadiers
Norsk Grenadiers
Skarpskytter
Det Siellandske Jægercorps
Det Norske Jægercorps
Det Slesvigske Jægercorps
Siellandske Bataillon let Infanterie
Den Slesvig=Holsteenske Bataillon let Infanterie
lette Infanterier Grenadiers
Norsk Skiløbercorps
Landeværn
Det Østindisk Europæisk Infanterie Regiment
Cipajen Corpset
Artillery:

Dansk 3-pund Artillerie
Norsk 3-pund Artillerie
Dansk 6-pund Artillerie
Norsk 6-pund Artillerie
Dansk 12-pund Artillerie
Dansk 20-pund haubits
Dansk 6-pund monteret Artillerie
Norsk 6-pund monteret Artillerie
Det Østindisk Artillerie Regiment
France
As France lost most of its colonies during the Seven Year war, your economy is essentially due to your own money production (taxes and Industry) and your commercial relations with other countries, however the Enlightenment had an impact on the low classes, they want to share the same destiny as USA, so if you want to stay under a French Monarchy the thing will be difficult cause if you decrease taxes, your economy will become a bottomless pit, so try to balance your economy and the happiness of your lower classes.

If you think that the Revolution is an easy way, let me tell that you're wrong, cause even if you wouldn't have difficulties with other countries under a Monarchy you will have some troubles to make them admitting your new regime and most of them will declare war to you, good luck. Also you will be faced to other problems, the loyalists troops and black slaves wait to declare the civil war if you push too far the Republican idealism by the technology tree.

The challenge fighting under the Republicans or the king flags are equal, just find the way that you prefer.
Great Britain
Your economy is only based on your trade roads, from the colonies or other factions, Britain has to maintain a good relationship with others or has to build a solid colonial Imperialism in danger since the American Revolution.

At the West, the United States are a danger for the American colonies and Iroquois confederation is not enough powerful to resist against the new raising nation, you have to act quickly if you want to keep Canada. At the East, the war between Mughals and Marathas is almost over and the winner will probably ask supremacy on the British East India Company territories.

The advantages playing Britain is the possibility of a larger colonial roster compared to the other colonial factions due to a less restricted recruitment limit, supplied by marine troops (Line, Grenadier and Light Infantries) which can be recruited on the American coastal territories and local auxiliary units (Native American units, Black Slave, Sepoys), however their upkeep cost us pretty high so be careful to a good enough economy to support your colonial expeditions.

If one your trade road is blocked you will have the chance to review the economic issues from the original IS (in clear it will be difficult not to have a game over), so be careful to secure those and to have good diplomatic relations with the other factions…
Prussia
King Frederick the Great is old and dying and so is the Prussian army. An army said to possess a state is in need of reform. Will Prussia live on its past glory and watch as the Habsburgs take a firmer grip on the Holy Roman Empire and expand to the west, or will it, perhaps, gamble for supremacy and unite the small German states under its leadership? You already have the support of some of them, such as Saxony, Hesse-Kassel and Hanover. The recent War of the Bavarian Succession was just a taste of Joseph II's ambitious plans.

The alliance with Russia is severely weakened by the Austro-Russian alliance made two years before. Catherine the Great obviously has other plans and is, together with Joseph II, considering wiping out the Ottoman Empire from the map, so an alliance with the Sultan would prove wise in order to keep the balance of power. Britain is currently without any major allies and is seeking new ones, threat from the expanding Russian Empire is a common problem. Also, be sure to protect Prussian interests in the collapsing Polish Commonwealth, otherwise Russia might take everything for themselves.

Due to Prussia's geopolitical position, Frederick maintained throughout his whole reign a policy of investing everything in the army and leaving very little for the navy explaining it by saying: "It is better to have the best army in Europe, than the worst navy in the Baltic."; so you will have to rely on friendly relations and alliances with other naval powers, namely Great Britain, the Dutch Republic and the Kingdom of Denmark, to ensure yourself from an attack by sea. Russia and Sweden are on the brink of war so use this to your advantage or even join Sweden against Russia.

Europe is shaken by the recent revolution in the American colonies, the people are on their feet, powers are shifting and new alliances are being formed. It is inevitable Prussia will be involved, in one way or another.
Russia
Catherine II's meddling in Sweden's internal affairs and the support to the political opposition have not gone unnoticed by Gustav III and have made war in the north inevitable. Do not expect much from the Danes as a new pro-British political current will soon replace the old pro-Russian one. The joint attack on Sweden is impossible due to their tactical and desirable alliance with France. Any attack on Sweden would automatically involve Russia in a war with France and would worsen relations with other nations and cause sanctions.

To the south, the slow decline of the Ottoman Empire has become the centre of international politics. However, their demise will not come that quickly as the Ottomans still have the support of France, and are soon to gain new supporters. The annexation of the Crimean Khanate can be a start and will enable you to build a Black Sea fleet to counter the Ottoman navy. This would open your ports to new trade routes in the Mediterranean. With the crisis caused by the civil war, Crimea will be an easy target, the people have already decided.

Persia is close to an end to civil war and a new dynasty will arise, one not so willing to let Russian interests expand southward into Dagestan. Georgia has awaited Russian protection with fervour, but Russia currently does not have the opportunity nor resources to assert its influence there.

To the west lies Poland, a once powerful kingdom but now a petty servant of the Empire waiting to be partitioned. Be careful your interests do not clash with those of Prussia as it could trigger a new global war.

Tensions are high and resources are low so good relations with central powers are crucial if you want to keep your new territorial gains. Catherine's dream of creating a Greek kingdom will have to wait.
Saxony
The old and paternalistic Holy Roman Empire is torn by the rivalry between the Habsburgs and the Hohenzollerns, and they will try to unite the German Empire and bring it under their hegemonies. Austria and Prussia are not likely to let another Polish-Saxon union happen and any ties with the Polish kingdom threaten Saxony's sovereignty so keeping a balance is essential. Although you are in an alliance with Prussia, having a decent standing army would prove useful, not to mention the danger of another war with the Habsburgs. Crisis in Europe and France's inability to take any action have only encouraged Joseph II in his ambitions. Try allying yourself with protestant states like Hanover and Hesse-Kassel first, Bavaria is more probable to go in an alliance with Austria. Forming alliances with other German states is indispensable and should be your primary strategy.

Catherine the Great's influence in the HRE is considerable so flattering the Russian Tsarina might have its conveniences and help preserve Saxony's independence.

The Electorate's power does not lie in size and military strength but in diplomacy. With the advantage of being an intermediary, you will have the opportunity to build your economy. Maintaining trade with other German states and picking the right ministers will bring prosperity. You still have resources collected after the Treaty of Teschen which ended the War of the Bavarian Succession, and how you invest those funds will determine Saxony's status.

Do not forget to pay attention to the risings in France, it is hard to tell what will come out of it but one thing is for certain: Europe is not ready for changes and any revolution coming from France will immediately be opposed by all other European monarchies and will bring them in a closeness never seen before.
Historical Characters:
Government: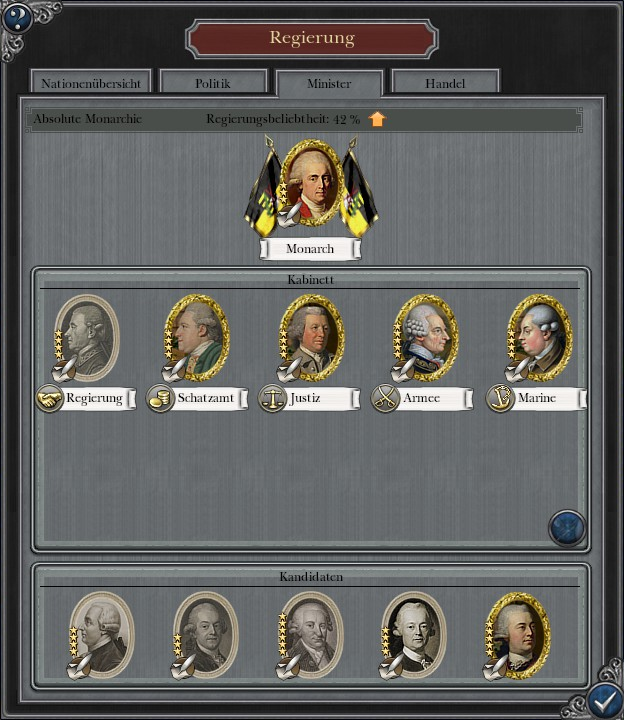 Churfürst: Friedrich August III
Kabinettsminister: Heinrich Gottlieb von Stutterheim
Kabinettsminister: Johann Adolf vom Loß (generic portrait)
Kabinettsminister: Carl-Abraham Graf von Fritsch (generic portrait)
Kabinettsminister: Karl August von Gersdorff
Kabinettsminister: Adolf Heinrich Graf von Schönberg
Friedrich Ludwig von Wurmb
Generals: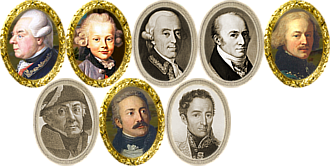 Scholars: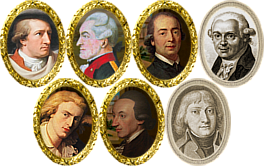 Envoys: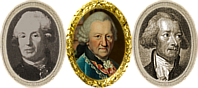 Andreas Graf von Riaucour (starting envoy)
Sweden
Since the glorious coup d'état in 1772, Gustav III has been struggling to bring back the monarchy to its proper place as the leading body of state. His confrontations with the Riksdag have been closely observed by neighbouring monarchs, who grow fearful and agitated by the events, especially his cousin, Catherine of Russia, who through bribery and corruption greatly influences the decision making in Sweden to prevent it from escaping Russia's hold on it. With idols from Sweden's history, Gustav III is determined to follow the steps of past great Swedish kings.

Breaking the Russo-Danish alliance was of no success so Gustav will have to consider other options. For years he has been examining war preparations with his councillors and searching for new allies that may assist him in his conquest against the anti-Swedish alliance.

Taking Norway will be easy but how long will Sweden be able to keep it is questionable so it would be best to invade Copenhagen first and then force the Crown of Denmark to cede Norway to Sweden. The Ottoman Empire is to weak to fend off Russia by itself so you might be forced to rely on other help, for the right price of course. At the same time, Finland is not to be trusted nor its officers who will if not put under control, rebel against you and take Russia's side.

Europe's equilibrium is greatly disrupted and a time for new powers has come. Will Sweden be one of those leading powers or will it share the fate of Poland? Only time will tell.
Historical Characters:
Government: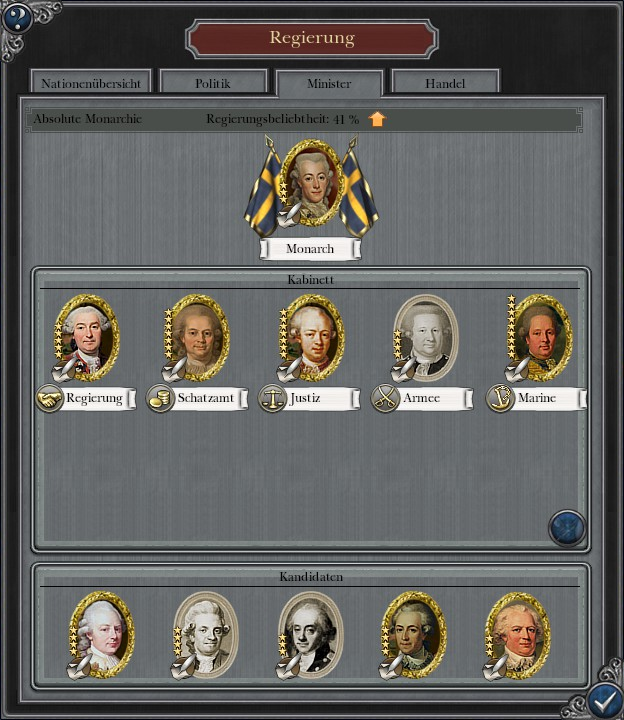 Generals:


Admirals:


Scholars:


Envoys:


Hans Axel von Fersen (starting envoy)
Göran Ulrik Silfverhielm
United States of America
US Army: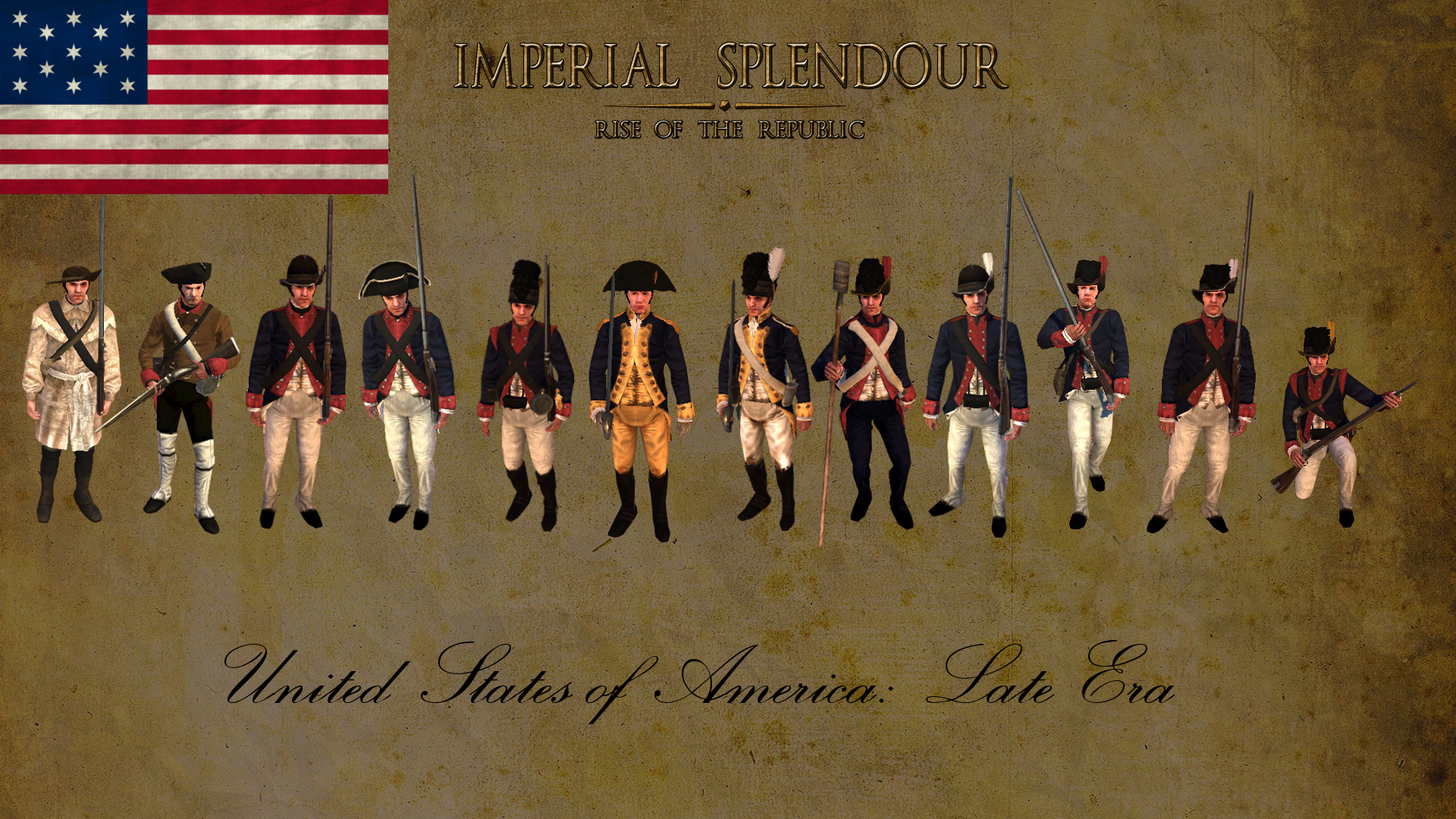 First, the bad news: The US unit rooster will be very limited at the start of the campaign.
Now, the good news. You will have greater variety of light infantry units to recruit than European factions. The US campaign will be very challenging!

Compared to other fractions in Imperial Splendour the United States will have just one of the three eras. However, it will be split into two distinct time periods.
After the the American War of Independence the Continental Army was disbanded and the regular United States army had a strength of only 1 regiment. This "early" late era will be a period where your access to regular army units will be limited. It may be advisable that you not start a war with anyone!
As you developed your technology and knowledge, you will be able to recruit the Legion of the United States; a well trained army capable of fighting in open terrain and along the American frontier.
Furthermore, you will have historical generals like Nathanael Green, Anthony Wayne and Arthur St. Clair.
Government: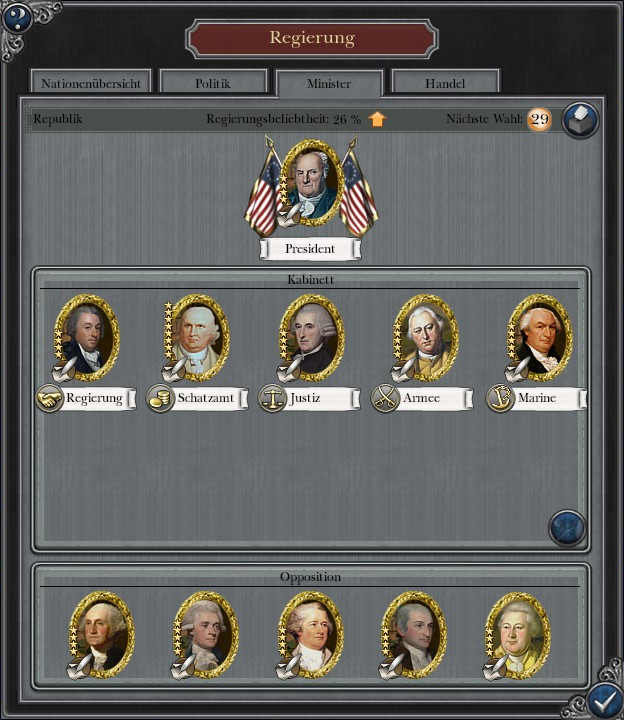 Generals: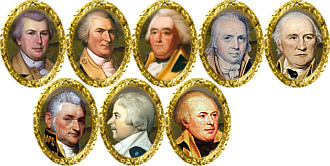 Admirals:



Scholars: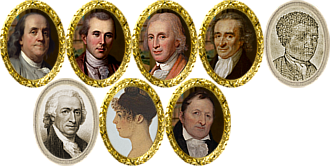 Envoys:



Technologies:

The United States will have their own army and philosophy techtrees to represent the unique development of the United States during the late 18 century.

Philosophy tech-tree:
The Philosophy Techtree is divided into 4 different parts. At first there is the scientific advance like "Learned Society". The 2nd part are general political ideas like the "Federal System" and consequently the 3rd the acts to transform the ideas into laws and politics. Finally the 4th are economic ideas and measures.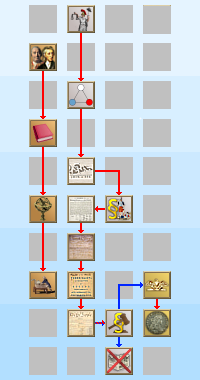 1.2 Social Contract
2.1 Empiricism
3.2 Separation of Powers
4.1 Encyclopedie
5.2 Common Government
6.1 Learned Society
6.2 Declaration of Independence
6.3 Virginia Declaration of Rights
7.2 Articles of Confederation
8.1 Scientific Method
8.2 Federalism
8.4 National Bank
9.2 Constitution
9.3 Judiciary Act
9.4 Coinage Act
10.2 Alien and Sedition Acts

Army Techtree:
As the US did not launch a great army or great army reforms in the late 18th century your option are limited here: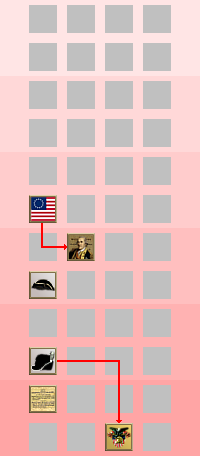 6.1 Continental Army
7.2 Regulations for the Order and Discipline of the Troops of the United States
8.1 First American Regiment Resolution
10.1 Legion of the United States
11.1 Militia Acts
12.3 Military Academy

Be aware that the Constitution is THE keytech for both the philosophy AND army techtree!

At last the United States will have a unique prestige building: The Capitol!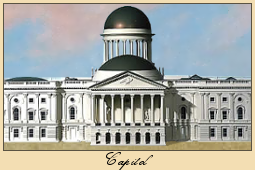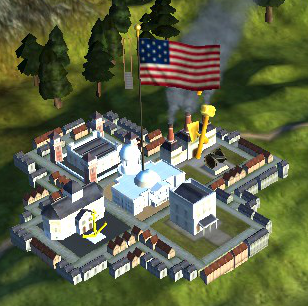 The model is made after the original plans of Dr. William Thornton and does not represent the today's building.
Contributors
PikeStance
Quintus Hortensius Hortalus
oleg2242
Cro_Hunger999
TSanada
Herr Doctor
mad orc
myfate