Sweden
Since the glorious coup d'état in 1772, Gustav III has been struggling to bring back the monarchy to its proper place as the leading body of state. His confrontations with the Riksdag have been closely observed by neighbouring monarchs, who grow fearful and agitated by the events, especially his cousin, Catherine of Russia, who through bribery and corruption greatly influences the decision making in Sweden to prevent it from escaping Russia's hold on it. With idols from Sweden's history, Gustav III is determined to follow the steps of past great Swedish kings.
Breaking the Russo-Danish alliance was of no success so Gustav will have to consider other options. For years he has been examining war preparations with his councillors and searching for new allies that may assist him in his conquest against the anti-Swedish alliance.
Taking Norway will be easy but how long will Sweden be able to keep it is questionable so it would be best to invade Copenhagen first and then force the Crown of Denmark to cede Norway to Sweden. The Ottoman Empire is to weak to fend off Russia by itself so you might be forced to rely on other help, for the right price of course. At the same time, Finland is not to be trusted nor its officers who will if not put under control, rebel against you and take Russia's side.
Europe's equilibrium is greatly disrupted and a time for new powers has come. Will Sweden be one of those leading powers or will it share the fate of Poland? Only time will tell.
Historical Characters:
Government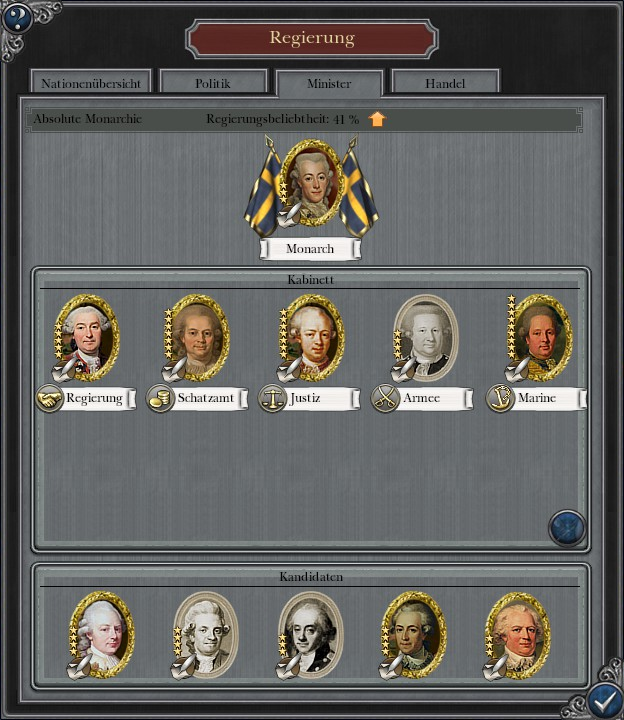 Generals

Admirals

Scholars

Envoys

Hans Axel von Fersen (starting envoy)
Göran Ulrik Silfverhielm